"When my work is at its best, it is playful to the eye. It's the heightened emotions brought to the viewer through color and shape arrangements that are the core of my studio work."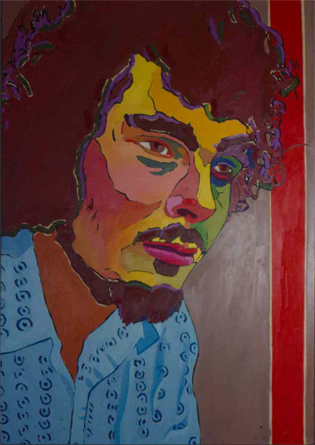 Born in Chicago, Illinois, in 1952, Doug Kinnett now lives and works in Shepherdstown, West Virginia. His studio is called Manna Machine Studio, where his focus is on art with abstract, organic forms and geometric shapes; bold colors and imaginative patterns. He creates oil paintings; woodcuts; furniture; and craft items made from ceramics, metal and wood. He holds a Master's Degree in Painting and a Doctorate in Art Education.
Doug Kinnett's work often displays a vibrant sensibility. "Visually, my work is often complex, cramming three or four layers of patterns into the flat space of a medium-sized canvas" he says. His recent paintings, the "Georgetown Series", are geometrically abstracted landscapes. These imaginative images employ color and shape to create the lively impression of being immersed in an urban landscape. He uses collage and lately watercolor studies to plan his paintings before executing the finished oil painting.
In addition to the paintings, Kinnett also produces several types of ceramic tile designs, which he builds into furniture. His tile work has been commissioned for installation in several private residences. The tiles can be used as accent pieces for kitchens, baths, pool surrounds, wall murals, etc.
Doug has been an exhibiting artist/painter and printmaker since the 1970s, with a long list of local, regional and national shows to his credit. In the late 70s, he concentrated on landscape oil paintings. While living in Wichita, Kansas during the 80s, he painted large, abstract-expressionist oils on canvas and began working with woodcut block prints. In Shepherdstown, West Virginia, between 1987 and 1995 he worked primarily as a printmaker, while occasionally experimenting collages made from found objects. From 1997 until the early 2000s, most of Doug's paintings were bold, colorful compositions of abstract plant forms.
Before embarking on a fulltime art career, he worked on the art faculty at Shepherd University. He has taught art to all levels of students: from kindergarten to graduate school.